Co to jest Artist Trading Card?
Mini-scrap wykonany na karteczce o wymiarach 2,5×3,5 cala (mniej więcej 6,5×9 cm). Takimi kartami wymieniają się scraperki 🙂 . Techniki i tematy zdobienia kart są absolutnie dowolne, chociaż przy konkretnych wymianach przeważnie ustala się temat lub technikę – chodzi o to, żeby bawić się tworzeniem i jednocześnie móc porównać, w jaki sposób inne osoby widzą ten sam temat. Na odwrotnej stronie karty umieszcza się dane identyfikacyjne – dotyczące samej karty (jej tytuł/temat, datę utworzenia) oraz twórcy – imię/nick i adres email.
Pierwsza wymiana ATC w Polsce odbyła się dzięki Asi Wu 😉 na forum "Zrób to sam" Wizaż.pl, a potem to już poszło jak lawina.
Moje najnowsze ATC jakoś niespecjalnie mi chyba wyszły, ale ze dwa pokażę.
Z wymiany z Dushką, temat "Biedronka" (integralną część karty stanowi to, co jest pod tym linkiem: KLIK – zapisanym na tym zwiniętym paseczku):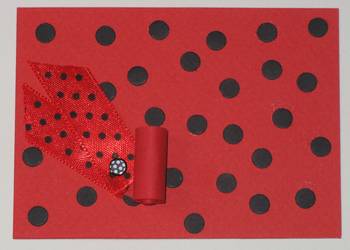 Z wymiany z Nannalą, temat: Zakupy: