Już jakiś czas temu zostałam zapisana do kolejnej wymiany wędrujących albumów, nazywanej, nie wiedzieć czemu, parchatą – chociaż wszystkie biorące w niej udział osoby są piękne, urocze i prześliczne. W każdym razie pod koniec stycznia wymiana ruszyła z kopyta i już mogę się pochwalić trzema wpisami w trzech różnych albumach.
Na początek mój własny – słabo było z pomysłem na temat, ale w końcu mnie olśniło i teraz będę miała kawowy przepiśnik-zapiśnik 😉
Okładka:

Wewnętrzna część okładki i strona tytułowa: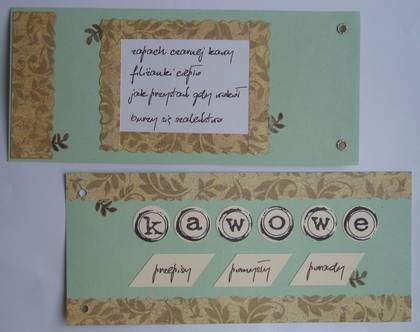 Potem zrobiłam wpis do albumu Pasiakowej, na temat "Jeśli nie scrapbooking, to co?" Ponieważ najwięcej czasu poza scrapbookingiem zajmuje mi Hania oraz czytanie, więc to uwieczniłam. Na tych zdjęciach nic nie widać, chyba w ogóle nie powinnam ich pokazywać.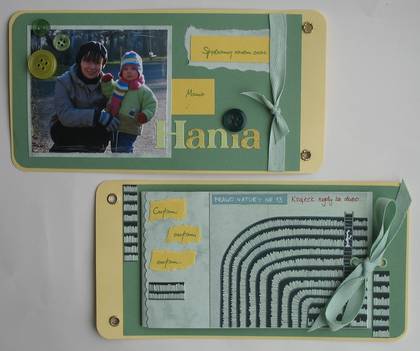 A na spotkaniu skrapkowym wydziabałam stronę do albumu Yovity "Pokaż mi swoją torebkę, a powiem ci, kim jesteś". Hm. No to macie 😉