Chociaż jakie to ma znaczenie, że akurat rok minął 🙂 Chciałam sobie przejrzeć wszystkie prace, które tu przez rok pokazałam, ale zapomniałam, a teraz nie mam czasu, bo skrapa robię – nie jest to praca twórcza, raczej destrukcyjna, zamierzam wszystko podrzeć i poniszczyć. Taki nastrój. Wpisy blogowe przejrzę później i stwierdzę, czy widać jakiś postęp.
My tu gadu gadu, a skrapowy cukierek już rozlosowany. Bez zdjęć z losowania, bo sierotka marysia nie chciała pozować z losem, wrzucam więc zdjęcie szczęśliwego papierka: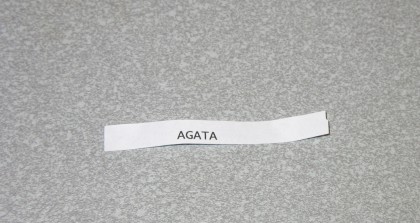 Wygrała Agata 🙂 Poproszę adres na maila (magda małpa list kropka pl).
I dziękuję bardzo za wszystkie wpisy, gratulacje i życzenia. Buziaki 🙂