Mam wrażenie, że już o tym pisałam, ale nawet jeśli, to warto powtórzyć. Jeden z moich ulubionych cytatów dotyczących sztuki i tworzenia, najlepiej opisujący sposób, w jaki sama myślę o twórczości, znalazłam w czysto rozrywkowej ksiażce Kevina Hearne "Kronika wykrakanej śmierci":
Chodzi o sam akt tworzenia, a niekoniecznie o skończony produkt. Tworzenie to jin na jang naszej konsumpcji. To brama do piękna, przez którą wszyscy chcemy przejść. Tworzenie, to mój sposób na powiedzenie światu, że go kocham.
I zainspirowana tym cytatem oraz pytaniem nr 1 ze Słoika na myśli (do którego wciąż zaglądam i wciąż znajduję coś ciekawego), zrobiłam taki wpis: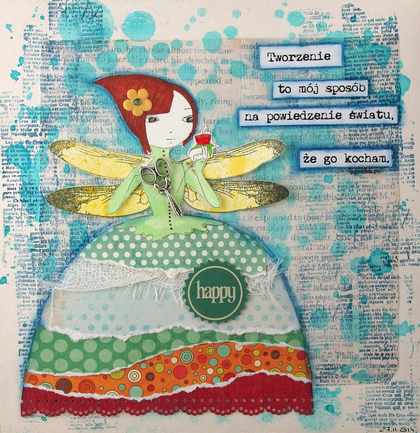 Bardzo mi się podoba suknia:
Praca pasuje też idealnie na wyzwanie nr 10 z Journal52.
Mam nadzieję, że pokażę jutro kalendarze adwentowe, które zrobiłam dla moich dzieci 🙂