Na blogu UHK Gallery rozpoczyna się właśnie nowa zabawa na cały rok – art journal z comiesięcznymi tematami, nawiązującymi do kolekcji papierów UHK Gallery. Pierwszy temat to "Mgliście" i pozwoliłam sobie taką pracę inspiracyjną wykonać: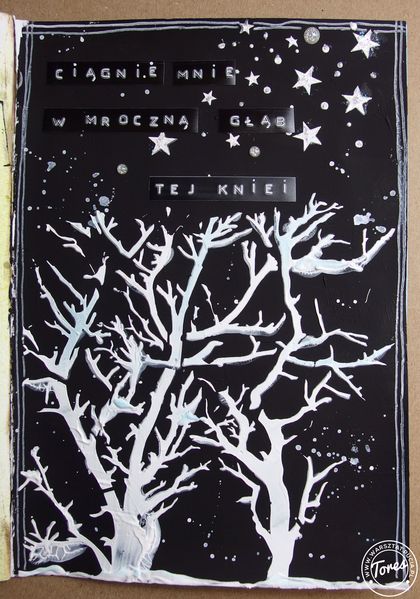 Tekst to fragment wiersza Roberta Frosta "Przystając pod lasem w śnieżny wieczór", w tłumaczeniu Stanisława Barańczaka. Cały wiersz wygląda tak:
Wiem, czyj to las: znam właścicieli.
Ich dom jest we wsi; gdzieżby mieli
Dojrzeć mnie, gdy spoglądam w mroku
W ich las, po brzegi pełen bieli.

Koń nie wie, czemu go w pół kroku
Wstrzymałem: żadnych zagród wokół;
Las, lód jeziora – tylko tyle
W ten najciemniejszy wieczór roku.

Dzwonkiem uprzęży koń co chwilę
Pyta, czy aby się nie mylę.
Tylko ten brzęk – i świst zawiei
W sypiącym gęsto białym pyle.

Ciągnie mnie w mroczną głąb tej kniei,
Lecz woła trzeźwy świat nadziei
I wiele mil od snu mnie dzieli,
I wiele mil od snu mnie dzieli.
Tak że o. Dołączycie do żurnalowania?