"Film/Teatr" to temat październikowego Post Art Journala, który idealnie mi się dopasował do tego, co się w październiku działo. Wreszcie do kin trafił film, na który czekałam od kilku lat – "Diuna" w reżyserii Denisa Villeneuve. Już w momencie ogłoszenia obsady byłam zachwycona, bo wszyscy tam dokładnie pasowali do moich wyobrażeń o postaciach (a już najbardziej Rebecca Ferguson jako Lady Jessica), potem przez pandemię wszystko się przesunęło, ale wreszcie, wreszcie nadszedł ten wieczór! Diuna okazała się filmem absolutnie przepięknym i w zasadzie perfekcyjnie odtwarzającym to, co sobie wyobrażałam czytając książkę. Jakby reżyser wyjął obrazy z mojej głowy. Wizualnie to jest czyste piękno. Nie jest to film idealny, nie porwał mnie emocjonalnie tak, jak miałam na to nadzieję – może za mało tam było wątków ludzkich, osobistych, a za dużo ekspozycji świata i monumentalnych obrazów, ale nie zawiodłam się, było pięknie. Byłam w kinie dwa razy i może jeszcze raz pójdę 😉
A wracając do art journala – to drugim pasującym elementem jest cytat z "Litanii przeciw strachowi", który dobrze oddaje to, nad czym pracowałam ostatnio na terapii. Żeby się nie bać, ogólnie mówiąc.
Jestem bardzo zadowolona z tej art journalowej strony. Fajnie mi wyszła.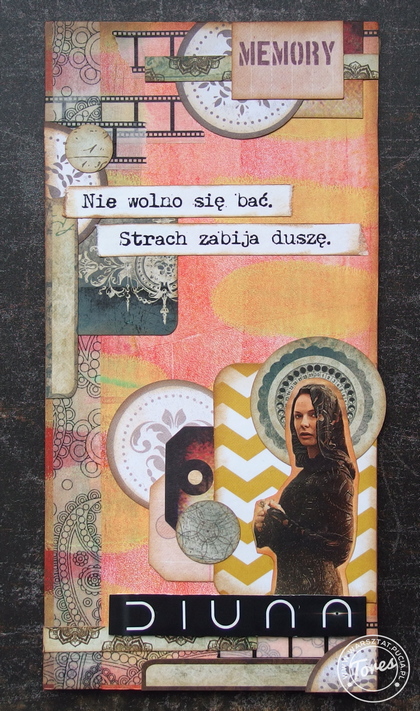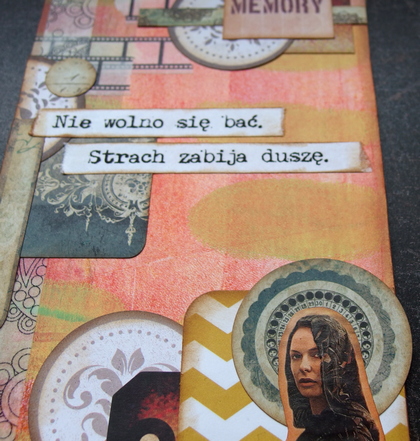 Bardzo polecam książkę i film. I terapię. I robienie art journali 🙂