Wymyśliłam je wczoraj i czuję miłą ekscytację na myśl, o tworzeniu – co ostatnio nie występowało zbyt często! Wymyśliłam całoroczną zabawę w tworzenie art journala – co tydzień jedna strona. Mały format, żeby było szybkie w zrobieniu. Taka wyklejanka bez filozofowania, na szybko, bez rozważania godzinę, czy wybrać naklejkę okrągłą czy prostokątną… A żeby mi samej nie było smutno, to wrzuciłam to jako roczne wyzwanie na ScrapElektrownię 🙂 I się okazało, że są chętne do współtworzenia, więc fajnie i motywująco.
Chciałam mieć bazę na cały rok od razu, i to taką niedużą – i się okazało, że oczywiście mam. Mam milion różnych baz i notesów, więc znalazł się i taki pasujący – ma miejsce na dokładnie 52 wpisy 😉 A zrobiłam go chyba dwa lata temu na jakieś wyzwanie ScrapElektrowni, taki recyklingowy, pozszywany notesik. W sam raz! Stworzyłam sobie też pakiecik papierów i dodatków, z których zamierzam korzystać przy robieniu tych wpisów, żeby mieć pod ręką całość materiałów i nie tracić czasu i mocy przerobowych na wybieranie papierów oraz szukanie tej idealnej wycinanki. Biorę, co mam przygotowane, i już.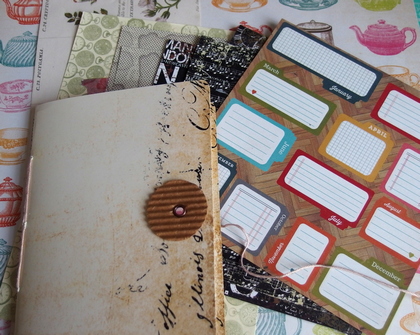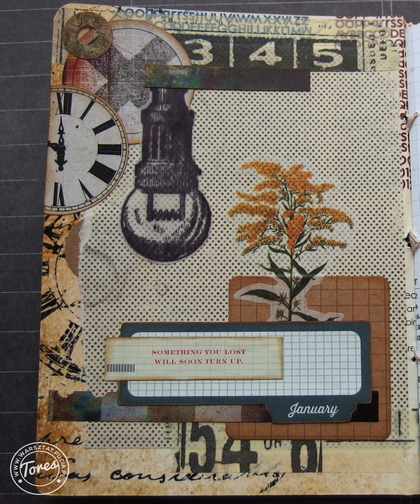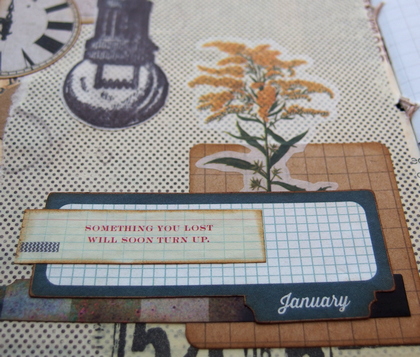 Może takie tworzenie na szybko to całkiem fajny pomysł dla mnie?