Dawno nie było ATC, to teraz będzie. Wymianę zaproponowałam mrufce, bo dawno się już na nią czaiłam. Mój temat – Znalezione na strychu, jej – Kino, po jednej karcie na każdy temat.
Znalezione na strychu – moja impresja na temat inky layers. Takie bardziej decoupage wyszło, bo użyłam serwetki (tak, finnabair, oczywiście z różą… 😉 ). Z inky to tusz brązowy i zielony (za jaskrawy trochę), i popaciałam jeszcze taką złotą farbką po wierzchu. Efekt nawet ciekawy, może jakieś pudełeczko podobne machnę przy okazji.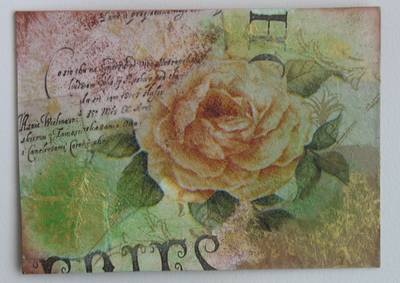 Kino – jedyna rzecz w tym temacie, która mnie jakoś porusza, budzi emocje większe, to Matrix (no, jeszcze Star Wars). Wyciągnęłam więc z portfela wycinek z gazety, ze zdjęciem, który nosiłam tam osiem lat… Wyciągnęłam czteroletni bilet do kina… I zrobiłam takie ATC: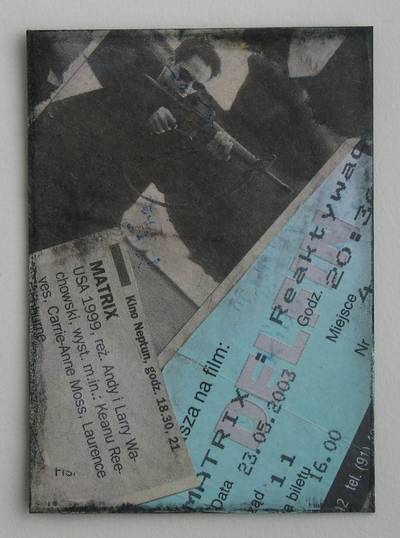 A potem patrzyłam sobie na nie, patrzyłam… i stwierdziłam, że nie dam rady się z nim rozstać 🙂 . Pierwszy raz zrobiłam coś skrapowego, co jest w tak dużym stopniu pamiątką i wspomnieniem. Więc dla mrufki powstało drugie ATC matrixowe: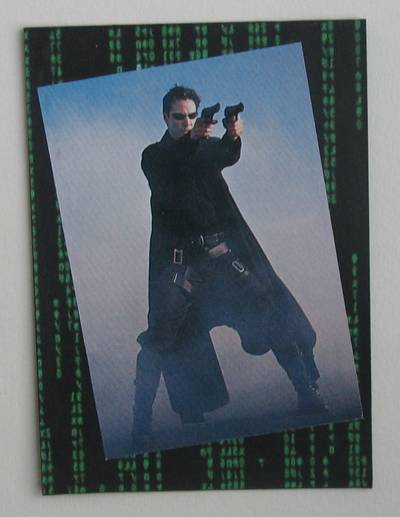 Pierwsze też miało być inky, a jest takie bardziej kolażowe, trochę czarnego tuszu na brzegach i polakierowane (nie pamiętam, lakierem do włosów, czy do decoupage 😉 ).