Nie wiem, kto to wymyślił, ale ten plastikowy stołeczek z Ikei nazywa się u nas "scena scena". Zdjęcie idealnie więc pasuje do skrapa na czerwcowe wyzwanie z bloga "Scrap the Girls" (dzięki Fryne za namiar!). A oprócz tego udało mi się wpasować w kolorystykę aktualnej Kolorosfery.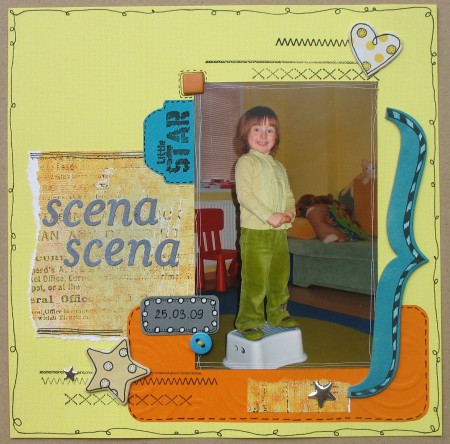 PS.1 Działa już sklep na I lowe skrap, przymierzam się do tych cudnych guzików, papierów i stempli – jak Nulka uzupełni zapasy.
PS.2 Miałam coś jeszcze napisać, ale oczywiście zapomniałam co… Jak mi się przypomni, to dopiszę 😀
PS.3 A teraz idę wstawić pranie i się odziać wreszcie…
PS.4 Przypomniało mi się – miałam napisać, że kupiłam właśnie w ScrapArcie super papiery, My Mind's Eye, w promocji po 2 zł. Są dwustronne, grube, w środku białe (ładnie się przeciera/przedziera), z fajnymi niedużymi wzorami i bardzo polecam, bo w takiej cenie naprawdę warto.