Rysowanie coraz bardziej mi się podoba, jest też dosyć poręczne – nie trzeba mieć przy sobie walizki przydasiów, żeby coś stworzyć, wystarczy piórnik i zeszyt (a propos, piórnik sobie muszę kupić, jak miło!). I oczywiście, że nie są to wiekopomne dzieła, ale radość tworzenia bezcenna (jestem takim rysunkowym grafomanem?). Zupełnie niespodziewanie wczoraj, czytając sobie jednym okiem przyjemną, rozrywkową książkę, kompletnie nie związaną ze sztuką ("Kronika wykrakanej śmierci" Kevina Hearne, jeśli kogoś to zainteresowało), trafiłam na absolutnie cudowny cytat:
Chodzi o sam akt tworzenia, a niekoniecznie o skończony produkt. Tworzenie to jin na jang naszej konsumpcji. To brama do piękna, przez którą wszyscy chcemy przejść. Tworzenie to mój sposób na powiedzenie światu, że go kocham.
That's my point exactly! I z tą myślą zerknijcie na moje rysunki: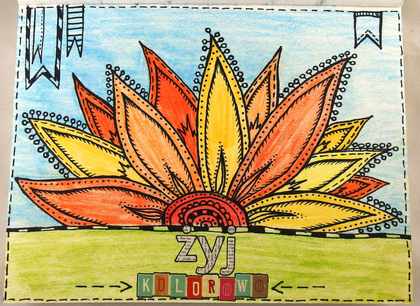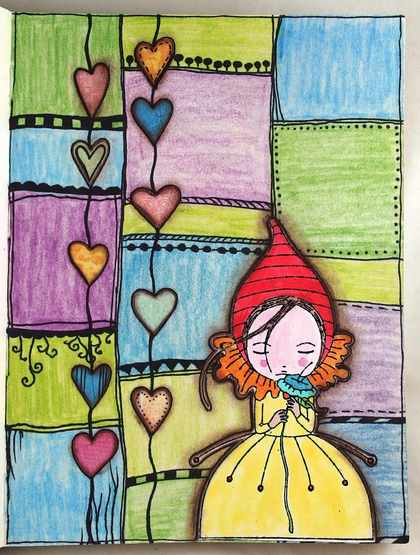 Tło to kredki bambino, a dziewczynka to embossowany stempel pokolorowany glimmer mistami.
I nie ma żadnego napisu, ale może kiedyś jakiś mi przyjdzie do głowy.