Czyli tak naprawdę ślubne pudełko (zrobione z pięknych i eleganckich papierów UHK Gallery: Creme, Watermelon i Liczi) – w środku ma trójkątne przegródki na włożenie upominków typu cukierki "Na osłodę", zapachowa świeczka "Na rozgrzanie atmosfery", pieniądze, kupony lotto i co tam komu przyjdzie do głowy (wnętrze widać przy pierwszym pudełku, które robiłam, TUTAJ).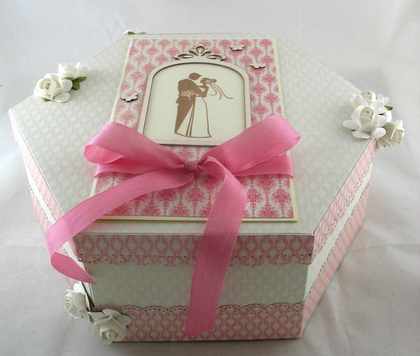 Na górze umieszczam kartkę – zawiązywaną wstążką – która jednocześnie ozdabia pudełko i daje możliwość wpisania życzeń od ofiarodawcy. Na kartce tekturki z Wycinanki.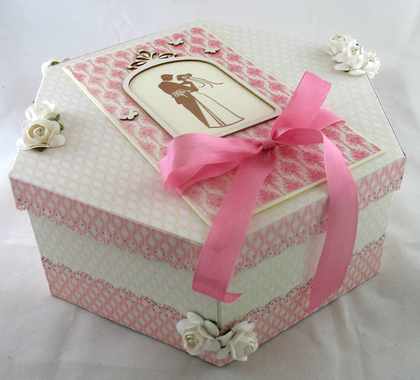 Większa fotka TUTAJ.
Ponieważ tym razem robiłam to pudełko "za jednym zasiadem" to teraz wiem, że zajmuje mi to ok. 4 godzin.